Turbo Lite 2




Turbo Lite 2 is a device that facilitates the use of mobile phones and GSM modules for SMS control and measurement. It has 2+2 opto-isolated inputs and outputs, 13 digital inputs or outputs (4 can be used as analog inputs) compatible with original Turbo Lite and also Turbo Adapter compatible ports with I2C and SPI interfaces.

Turbo Lite 2 can be used with Turbo Programmer 2 for application debugging and tracing communication between SIM card and mobile phone. There are pads for optional MMC connector at the bottom side. Turbo Lite 2 is software compatible with Turbo Adapter.


Features:
Mobile phone accessory, can be used in any SIM Toolkit enabled mobile phone
Comes with

Pager v2

application preloaded - remote SMS control and measurement
2+2 opto-isolated inputs and outputs for easy sensors/controls connection
Additional 13 inputs or outputs, 4 of them usable as analog inputs, Turbo Lite compatible
Turbo Adapter compatible ports, I2C, SPI interfaces
Open application development
Debugging interface, usable for

SIM-ME communication tracing

Best price solution for GSM remote control and measurement
Other applications can be uploaded or removed via data cable of the mobile phone with AT commands for SMS
Easy firmware upgrade using multipurpose Turbo Programmer 2
Datasheet Turbo Lite 2, Rev. 01-05/09/02
User Manual Pager v2, Rev.03-06/04/08


Turbo Lite 2 provides the unique possibility to connect miscellaneous sensors, switches and control devices and use both new and older (abandoned, recycled) mobile phones for signalization, remote control and measurement. Not only does the one chip solution bring the best price, but it also provides complete openness for developers.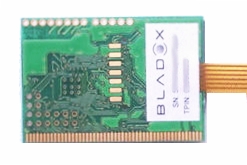 Turbo Lite 2 is usable in any SIM Toolkit enabled mobile phone.

Constructions:
Lite I/O Schematics, PDF. Possible schematics of galvanic isolated power I/O for Turbo Lite 2/Turbo Lite/Motion (Auto Alarm).
Relay Output Schematics, PDF. Two versions of single relay output - with extenaly powered relay plus optocoupler and with relay powered by the mobile phone.