Auto Alarm, Turbo Motion 2




Auto Alarm, Turbo Motion 2 is a mobile phone accessory equipped with accelerometer for acceleration and tilt measurement. It is ideal for vehicle movement detection as Auto Alarm with no installation needed, nor sensors nor electric wires. If used with abandoned mobile phone it is the best price solution for vehicle movement detection, both for cars and bikes. In the simplest case it is just enough to hide the mobile phone in the car and if movement is detected warning SMS is sent to one or more phone numbers.

In addition to the first version Auto Alarm, Turbo Motion with 13 digital inputs or outputs (4 of them can be used as analog inputs), Auto Alarm, Turbo Motion 2 has 2+2 opto-isolated inputs and outputs for better sensors connectivity. It is possible to connect the GPS receiver via RS232 serial interface and get the exact location of the car. Also the sensitivity of movement measuring was increased.

Features:
Mobile phone accessory, can be used in any SIM Toolkit enabled mobile phone
Comes with Auto Alarm application preloaded - movement and tilt detection with the included accelerometer
2+2 opto-isolated inputs and outputs
Additional 13 inputs or outputs - possibility to connect central locking, sensors, immobiliser and other alarms
Exact location from GPS receiver connected via RS232 interface
Control via simple SMS commands
Warning SMS on more numbers, rights management available
Easy to configure on mobile phone display
No in-car installation needed, both for cars and motorbikes
Best price solution for vehicle security
Other applications can be uploaded or removed via data cable of the mobile phone with AT commands for SMS
Easy firmware upgrade using multipurpose Turbo Programmer 2
Datasheet
Turbo Motion, Rev. 01-04/06/30
User Manual
Auto Alarm - User Guide, Rev. 02-04/07/30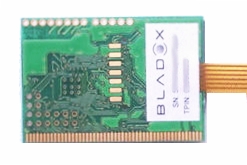 On the application level Turbo Motion 2 is compatible with Turbo Lite 2 and Turbo Adapter.

Constructions:
Lite I/O Schematics, PDF. Possible schematics of galvanic isolated power I/O for Turbo Lite/Motion (Auto Alarm).
Relay Output Schematics, PDF. Two versions of single relay output - with extenaly powered relay plus optocoupler and with relay powered by the mobile phone.


Questions...



Auto Alarm, Turbo Motion 2? Why two brands?

BLADOX
is a producer of family of
Turbo SIM Toolkit Adapters
, for example of
Turbo Adapter
,
Turbo Naked
,
Turbo Lite 2
.
Turbo Motion 2
is a member of this product line.
Auto Alarm
is an application, one of the possible
Turbo Motion 2
usages. Because customers are more interested in the usage itself, we call the cunsomer product just
Auto Alarm 2
.

Where and how is Auto Alarm 2 connected?

Remove your SIM card from the phone and insert the SIM shape card on the flexible ribbon into the phone. Put the SIM card into Auto Alarm 2.

How to put in Auto Alarm 2 inside the phone?

Although Auto Alarm 2 is
only 3mm thin (just under 1/8")
there is no space under standard back cover. We offer
thicker battery covers
for selected mobile phones.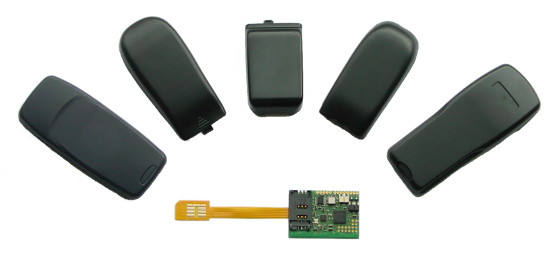 What mobile phone is suitable for Auto Alarm 2?

Auto Alarm 2 works with almost every GSM phone supporting SIM Toolkit applications. Recommended phone is
Siemens C55, A50, C45 S35, C35
or
Nokia 3210, 3310, 3315, 3330, 3410, 3390, 7110, 6210, 6310, 8210
for which we offer thicker battery covers. Otherwise, you can really use almost any newer phone.

What mobile phone is NOT suitable?

Auto Alarm 2 doesn't works with
Siemens MT50
phone.